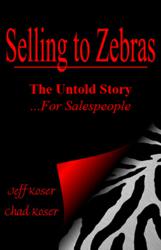 Milwaukee, WI (PRWEB) February 22, 2012
Following the success of Selling to Zebras: How to Close 90% of the Business You Pursue Faster, More Easily, and More Profitably, Jeff and Chad Koser did something novel. Literally. In Selling to Zebras, The Untold StoryFor Salespeople, the authors present their ideas within a fictional narrative. The novel tells the story of Kurt Kostner, the dedicated vice president and general manager of C3 Technology, who has been given an ultimatum: Turn sales numbers around in 90 days or pack up your things.
Telling the story from the sales perspective

The original Selling to Zebras book described the sales methodology developed by Kosers company, Selling to Zebras, Inc. The ZEBRAselling approach increases sales effectiveness by pitching the financial advantages of a companys product or service as heavily as features and benefits. In addition, interest and support of top management are sought early in the sales cycle for a shorter, more successful sales process.
The original book was written for the C-suite reader, but the new book is geared to the boots-on-the-ground salesperson.
Were salespeople at heart, says Selling to Zebras author, Jeff Koser. We understand the frustrations of implementing any new sales methodology. So we wanted to illustrate how the ZEBRAselling process works from the salespersons perspective. Telling it as a story enabled us to make it more engaging and real.
While the primary audience is salespeople, the book serves as an effective refresher on the sales process improvement strategy for anyone who read the first book.
Purchasing the book

The novel is available to the general public for $ 2.99 through Amazon and to Amazon Prime members for free through the Kindle Owners' Lending Library.????Kindle apps are available for most devices, making Kindle e-book downloads readable on PCs, tablets and phones.????
About ZEBRAselling

ZEBRAselling is the sales methodology developed by Jeff Koser, founder and CEO of Selling to Zebras, Inc. Selling to Zebras is a global leader in sales process improvement. The company teaches sales professionals how to close 90% of business they pursue with greater ease, speed and profitability. The company provides process efficiency tools, sales software and management support to help companies achieve considerable sales improvement.
For more information contact:

Chris Ullman

Chris.Ullman@SellingtoZebras.com

414-979-9172

http://www.sellingtozebras.com/
# # #