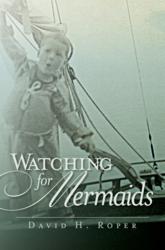 Marblehead, MA (PRWEB) February 21, 2012
Dave Ropers book, Watching for Mermaids, published by Points East Publishing, climbed to number four on the Boston Globes Bestsellers list for non-fiction this week. Watching for Mermaids is a collection of short stories that navigate through decades of Ropers waterborne life, celebrating the romance, uncertainty, and possibility of a lifetime spent sailing.
Ropers sea stories take the reader through a captivating journey that blends fantasy and reality, starting with his sighting of two mermaids along the Maine coast as a nine-year-old boy. From that early polarizing moment, Roper spent the next few decades exploring the realm that exists between what is imagined and what is real. According to the author, When you think about it, the only limits to all of us are our own life experiences and the scope of our imagination. Whats beyond that? The editor of a famous newspaper, in what has become the most reprinted editorial in the English language, perhaps put it best when he answered a little girl with a similar burning question: Is there a Santa Claus?: Virginia, in this great universe of ours man is a mere insect, an ant, in his intellect, as compared with the boundless world about him, as measured by the intelligence capable of grasping the whole of truth and knowledge.
Watching for Mermaids is a must read for anyone who is not bound by the limits of their own experience! The book is available at all major bookstores and online booksellers.
About the Author Dave Roper has been a professional writer and speaker for over 25 years. Next to sailing, telling and writing ocean tales is his favorite pastime. His writing has been published in eighteen languages. Author of the Time Warner book Getting the Job You Want Now!, Dave is also a regular columnist for Points East Magazine and has written numerous feature stories for Cruising World, DownEast Guide, Lakeland Boating, Sail, Sailing, Readers Digest, and The Wall Street Journals National Business Employment Weekly. Dave is also the founder and director of A-Script, a career advisory and resume-writing firm located in Marblehead, MA since 1982.
For more information about Watching for Mermaids, please visit http://www.watchingformermaids.net.
###