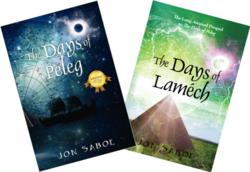 Baltimore, Maryland (PRWEB) January 21, 2013
Novelist Jon Saboe has developed a strong cult following, solely on the basis of his two adventure narratives, The Days of Peleg and The Days of Lam?ch. Though the books have amassed passionate and outspoken fans, it is not enough for Saboe, whose greatest passion is for sharing his stories with as many eager readers as possible. As such, the author has decided to give away the books as free e-book downloads; both volumes in the series will be made available to readers in Kindle and Nook forms, for five days only. The promotion, sponsored by publisher Enoch Press, will last from January 24 through January 28.
According to Saboe, the impetus for the book giveaway is simply the desire to draw more readers into the Peleg and Lamech community. The great joy of writing and publishing these books has been seeing them take hold among so many readers, who have written me to express their interest and their gratitude, remarks Saboe. These are stories that resonate with peoplesometimes provoking thought and sometimes just entertaining. Indeed, The Days of Pelegfirst published in 2007resonated so deeply that Saboe was inundated with requests from readers, hungry for a follow-up. The Days of Lam?ch was released in 2011 as a prequel to the first book; now, Saboe has partnered with Enoch Press to expand his audience and invite more readers into the fold.
An IT professional by day, Saboe says his original conception of the books came from conversations he had with friends and co-workers about the origins of humankind. There is a tendency for modern men and women to look back on past civilizations and view them as primitive and foolish, explains Saboe. The idea of these books is that perhaps there was much more to these early cultures than meets the eyeand that maybe our entire conception of anthropology is skewed.
Though they may sound lofty in their thematic elements, Saboe assures readers that his books are anything but didactic or overly-intellectual. While I would love it if these books provoked some thought and generated some discussions, both entries in the series are adventure stories at heart, he remarks. Indeed, the author is proud to reflect on the critical notices his books have received, comparing them to the works of C.S. Lewis and Michael Crichton, as well as adventure films like National Treasure and the Indiana Jones movies.
Through this new promotion, Saboe desires to bring these adventures to his widest audience yet. I love the enthusiasm of my readers, and now, the goal is simply to see their numbers grow! he says. The Days of Peleg and The Days of Lam?ch are both in print and available from various retailers, including Amazon; electronic versions are free for download, on January 24 through January 28, through Enoch Press.
ABOUT:
Jon Saboe is the author of two celebrated adventure novels, The Days of Peleg and The Days of Lam?ch. Saboes varied and imaginative writing draws inspiration from his eclectic life experience, which includes early studies in music as well as his current work in IT. Saboes work is best classified as historical fiction, with an emphasis on adventure and undercurrents of science fiction.