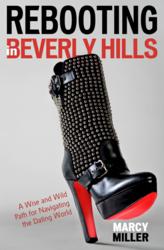 Baltimore, MD (PRWEB) March 30, 2012
On March 30, 2012, Bruce Bortz, founder and publisher of leading independent publishing house Bancroft Press, announced that his company would shift its focus from fiction, the companys primary (though not exclusive) emphasis for more than a decade, to memoir.
The change will begin on June 12, when Bancroft, located in Baltimore, MD, will launch Marcy Millers Rebooting in Beverly Hills: A Wise and Wild Path for Navigating the Dating World, a dating over 50 memoir tagged as Sex and the City for the next generation.
Its funny, its wise, and its uniquely insightful about real life, says Bortz of Rebooting in Beverly Hills. Its exactly what we look for in a good memoir.
In a way, says Bortz, the change began last August, with the release of Jackie O: On the Couch: Inside the Mind and Life of Jackie Kennedy Onassis, a fictional autobiography of the former first lady. Although not actually written by Onassisin fact, it was written by accomplished psychoanalyst Dr. Alma Bondit told a true story from a first-person perspective, and became one of Bancrofts most successful titles in years.
Our slogan here at Bancroft has always been Books that Enlighten, says Bortz. Jackie O did that, and so do our upcoming memoirs.
Aside from Rebooting in Beverly Hills, these new titles include Gerald Felix Warburgs Dispatches from the Eastern Front, an insider and lobbyists view of Washington, D.C. politics; an untitled memoir from Kevin Kelly about a former football coach who turned out to be a mob enforcer; Phyllis Hains Diamond in the Dark, a Southern girls true story of growing up in the midst of child and spousal abuse, then becoming a national champion of the abused; and in October of this year, Walking Home with Baba, Rohini Ralbys spiritual account of her time spent with Swami Muktananda.
But Bortz emphasizes that this new emphasis on memoir does not mean Bancroft is moving away from fiction. In fact, Bancrofts next title, Elizabeth Leikness The Understory, due out June 1, is a work of humorous literary fiction. We will continue to publish excellent fiction, Bortz says. But well publish terrific memoirs as well.
In a sense, this is Bancroft Press returning to its roots. Nonfiction was the predominant focus of Bancroft Press for nearly its first decade of operation.
Fiction and memoir have a lot in common, says Bortz, especially first-person fiction, which Ive always found to be extremely intimate. They both tell great stories. Really, thats what were all about.
Related New Fiction Books Press Releases