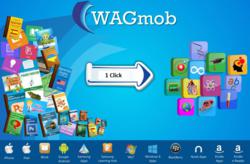 Seattle, WA (PRWEB) May 01, 2013
WAGmob today announced that more than 1 million customers, from 175 countries, have purchased a WAGmob app for on-the-go learning.
WAGmob offers bite sized, snack sized apps that allow students in K1 to K12, college students and professionals to learn, revise and test on-the-go. WAGmob is transforming the grab-and-go market for learning by its apps and eBooks.
We literally grew from zero to 1 million paying customer in last two and half years. And we have achieved this growth by spending zero dollars on marketing. Our execution focus has been on bite sized, snack sized apps for learning, said Kalpit Jain, founder of WAGmob.
WAGmob promotes on-the-go learning by offering apps and eBooks for school students (Math, English, Science, Grade Series); college students (Business, Law, Engineering, Medicine); and professionals (Languages, Programming, and Tools).
In todays information economy, learning starts at day 1 and continues throughout the life. What you know can help you get a job and get you promoted to the next level. If you can find a minute, use it to learn, said Kalpit Jain, founder of WAGmob.
WAGmobs mission is to have a WAGmob app for on-the-go learning in every hand.
### About WAGmob ###
WAGmob is a digital publishing platform for on-the-go learning. The platform is being leveraged by publishers, businesses and authors to create, amplify and distribute interactive digital learning content. The platform breaks learning into bite sized chunks and offers each part as a snack. The platform incorporates 7 elements to promote on-the-go learning. Tutorials, Quizzes, Flashcards, Videos, Labs (Step by Step instructions), Games (Quiz and memory challenge), and Activity Zones (Drag and drop, Pinch and Zoom, Draw and label),
The platform runs on all in-market smartphones, tablets and eReaders: 1) Apple: iPhone, iPad, iBook, Mac 2) Windows: Smartphone, Tablet, PC 3) Samsung Android: Apps and Learning Hub eBooks 4) Google Android: Apps and eBooks 5) Amazon Android: Kindle fire Apps 6) Barnes and noble Android: nook Apps 7) Black Berry: Apps for Smartphone and Tablet 8) eReader: nook and Kindle 9) Web browsers: IE, Firefox and Safari.
For more information, please email us at team(at)WAGmob(dot)com or visit us at WAGmob.com.
Related Ebooks For Nook Press Releases